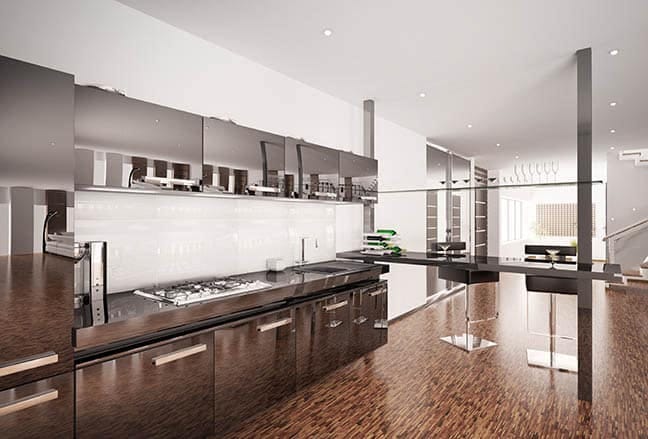 You might have never even thought about it but there is a lot of thinking prior that goes into selecting a quartz kitchen countertop. Here are some pointers that you need to remember when you are going to buy quartz slabs. Let's begin!
Select The Right Color And Pattern
Quartz has a ton of variety when it comes to color. But you don't want to get carried away by the colors, you have to keep a strict color scheme in mind for your kitchen. Usually muted and neutral colors are your best bet. These colors look classic, they go with everything and you don't need to be worried about following the trend.
As far as patterns are concerned, you need to go for either no pattern at all or very lightly patterned surfaces. The reason why is because you don't want seams to create an issue, if you choose to get more than one slab. This is not applicable for a single slab, but if your countertops require more than one slab, then it's best to go for a plain top surface, otherwise seams will create an issue. Seams are the unsymmetrical appearance of the design on the top surface of the stone. They can be hidden, but it's best to avoid situations where seams can occur as much as possible.
The Thickness Of The Slabs Matters
Thickness of the slab is also an important factor because that will determine the budget for your quartz countertops. The thickness of the slab varies directly with price, and with quartz being a slightly expensive material, it can add up and you might not have a lot of budget for it. The optimum thickness for a kitchen countertop is ¾ of an inch. For a kitchen island, you can increase the thickness a little bit, since the kitchen island is a centerpiece of the kitchen and you want it to stand out.
The Type Of Edges
There are mainly two types of edges which are available in kitchen countertop designs. One is a pointy square edge and the other is a blunt waterfall edge. You want to keep in mind what type of counter edges you want in your kitchen.
Waterfall edges are very smooth and they rarely have any pointy edges, so you can be rest assured that there will be no weird accidents or poking occurring, especially around kids who are very irresponsible and can bump into the sharp edges of a countertop.
Square edges are also very common and they have a sharp and edgy feel to them, which makes it perfect for modern and minimal kitchens.
How Many Holes There Should Be In The Countertops?
When countertops are installed, the team usually asks you if you want any holes in the countertop for future fixtures and stove top installation. This is also a very important thing to remember when your countertops are being installed. You need to ask the installation team to make holes and small cavities in the countertop for your stove top, some electrical connections, water pipe fixtures, sink fixtures, etc. The holes need to be made before installing, otherwise it will be a big problem to make holes after installation is already done.
Ask For Samples
You should always ask for samples when you go to review quartz countertop samples in the retailer's store. The samples need to go well with the entire kitchen and sometimes, the actual sample may look different from the slab itself so it is always a good idea to take some samples home with you and match them up against your kitchen. This will give you a good picture of how the actual installed slab will look in your kitchen at the end. Samples will also tell you about what color will go good with the kitchen.
There you have it! With this guide, you are sure to select the perfect slabs for your kitchen. You will know what colors and design you want to go for and you will also know other important dimensions that need to be discussed with the quartz countertops dealer Potomac and installation team beforehand. Make sure the color and design complement your kitchen's theme and the installation is flawless.
Categories: Home & Garden