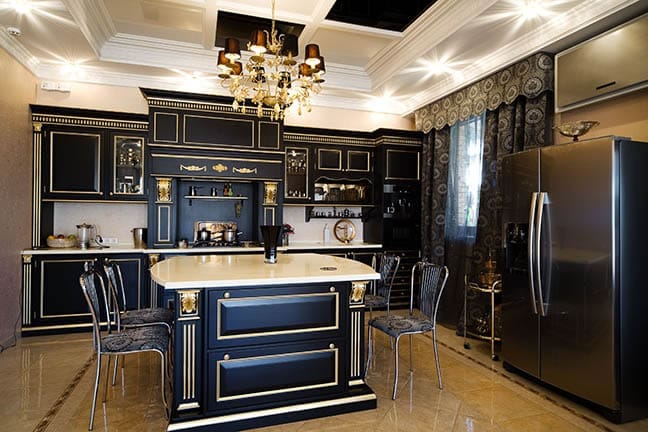 Back in the days, granite kitchen countertops used to be a thing for the rich only. Today with extensive mining and increasing industrial usage, granite countertops are immensely popular with all budget groups.
If you are a new home owner, or just looking to do kitchen renovation or countertop replacement, we recommend giving a read to the tips listed down below that will not only help you narrow down your choices but will ensure that you buy the best type of granite available on the market.
Let's begin!
Granite And Natural Stone Countertops Offer Unlimited Design Choices
Whether you have a modern minimalistic appeal to your house, or you're looking to spice things up in your very earthy country house, there's just about every type of granite stone combination on the market that you can imagine. Owing to the diverse color palette and the range of textures and patterns this natural stone is embedded with, there is a perfect kind of stone available on the market suited to your kitchen design.
The important thing to note is that you should choose a kitchen countertop color combination that most closely fits the overall style of your kitchen and house, but it's okay if you decide to go for a different kind of stone for different areas of the house. Diversity is key!
Ask Your Fabricator About The Seams
As we all know, granite is largely resourced as slabs and solid rock before eventually being customized according to the need of the client. Since it can't be poured or pasted, we recommend asking your fabricator some crucial questions that will determine the final look of the finished product. You should definitely stay on board with the granite fabricator and installer about the sizes, measurements and location of the seams. Since seams are unavoidable, you can talk to your fabricator about installing them in such a way that the seams look as inoffensive as possible.
All That Glitters Is Not Gold
Now we know that you may have set your heart over that fantastic glittery granite countertop interspersed with mica flakes and a copper and bronze undertone that gives a brilliant shine all across the surface. Well, that might not be the most suitable choice especially if you're opting it for the kitchen. As most new home owners do have kids aged anywhere from 2-10 years old, maintaining this type of granite amidst the chaos of frantically running children while preparing a three course meal is certainly not ideal.
Not to mention, it doesn't give the overall rustic timeless appeal to the kitchen like we usually recommend. We are of the opinion that you are much better off selecting a hard and forgiving timeless piece of natural stone for your household.
Don't Get Yourself Carried Away In The Grades
As a new homeowner, it's your first time shopping for granite countertops and you get to know the A, B and C classification of the stone that goes all the way to F. you might be tempted to get the one that belongs to the F category with a whopping $95 price tag compared to the A category that comes well below $40. Well, don't get confused in the grading, my friend.
The grading is nothing more than classifying the stone according to the prices, it is not a measure of the quality, sustainability or durability of the stone, so don't get fooled by the price and grades. There are a multitude of options that are budget friendly yet extremely long lasting for the ultimate housing experience.
What You See As A Granite Slab May Not Be What You Get As An Installed Countertop
This is something I try to make our readers understand from time to time. You might be shocked at the beauty of a certain granite slab you have set your heart on, it looks magnificent and you begin envisioning it in your house. Remember that standard fittings around the home at 25 inches can never match the look of the whole slab. So please lower your expectations!
Here you go, a comprehensive guide on some of the essential tips to remember while shopping for granite countertops from granite contractors Potomac. With so many granite colors and patterns, you will definitely find something of your choice.
Categories: Home & Garden
Comments